Quality Used Tire Sales in New Port Richey & Free Installation
Need a tire but don't want to spend hundreds on a brand new tire? Our used tires are in great shape and could save you hundreds.
Save Money on Quality Used Tires – FREE TIRE INSPECTION
Are you driving on a spare? Or, perhaps your tire treads have gotten dangerously low. If you've put off or been stressed about getting a new tire because of the cost, you're in luck. At Used Tire Warehouse we provide an affordable solution for those who need to replace their tires for less.
If you've found yourself needing a tire replacement there is no better place in New Port Richey, FL to get a tire. We can quickly find a replacement tire for your vehicle and install it for free. We only have the highest quality used tires at the lowest prices around – you could save hundreds.
Get in and out quickly – Including FREE installation
Many of our tires have over 60% remaining tread
Alignment service to preserve your tire investment.
We'll also give you a free tire inspection.
Best Service & Installation in New Port Richey, Florida
When you purchase a used tire from us you can be assured you'll also receive the best service possible. We are a family owned and operated company with over 45 years in the used tire industry. We provide quick, reliable service and can get you in and out quickly.
Free Tire Installation
Free Air & Tire Pressure Check
Top Tire Brands
Our auto mechanics are highly trained and experienced to ensure every job is done right and in a timely manner. Come in for a tire replacement and we'll get your tire swapped out quickly and professionally.
How To Read Tire Size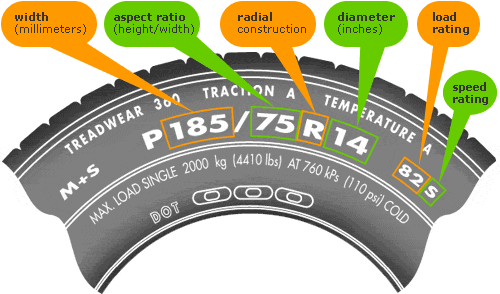 Image from http://pinep.handshakeapp.co/check-tire-size/
Best Tires & Largest Selection
All of our used tires are inspected closely and we have a rigorous tire selection process – we only accept the best used tires. Many of our used tires still have 60% or better tread remaining and you can get them at a fraction of the cost of a new tire.
We also offer used tires in wholesale and have hundreds of tires available for purchase.
Not sure if you might need a new tire? If you are replacing your tires prior to trading in your vehicle, you may want to consider purchasing new tires instead.
We offer great deals on all new tires as well.
Check Out Our Reviews From Other Happy Used Tire Customers